Pumpkin Loaf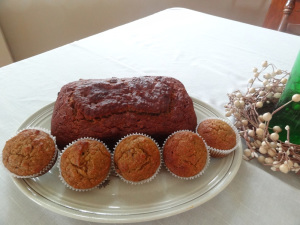 This delicious recipe, is perfect for this time of year.
Mix together in a large bowl and make a well:
1½ cups flour
1½ cups whole wheat flour
1 cup wheat germ
1 cup sugar
1 cup brown sugar
2 teaspoons baking soda
1½ teaspoons salt
2 teaspoons ground cinnamon
½ teaspoon each ground ginger, nutmeg, cloves
Add in to well:
2½ cups cooked and puréed pumpkin
4 eggs
½ cup oil
½ cup pecans or other nuts (optional)
1 cup raisins or chocolate chips
Mix just until all the dry ingredients are moistened.
Pour batter into two greased 9×5 inch loaf pans. Bake in preheated oven at 350°F until toothpick inserted in centre of loaf comes out clean, 50 minutes. Cool in the pan on a wire rack for 10 minutes. Loosen edges and turn the loaf out onto a wire rack to cool completely before slicing.
Muffin variation: Pour batter into greased muffin tins. Bake 15 minutes.